While flower delivery services are abundant throughout the internet, not all of them do a great job at delivering bouquets that are fresh and undamaged.
A considerable majority of flower delivery companies pre-assemble and then pack their bouquets in cardboard boxes, often causing damage to the flowers. They also use traditional delivery services which involve shipping their products in trucks.
By the time the bouquets finally reach your doorstep, they are usually dehydrated and lose a lot of their natural charm.
This has happened to me plenty of times and had me running to the local florist for a last-minute pickup. However, it was when I discovered Teleflora that this problem got resolved for good!
Teleflora is a flower delivery service that boasts of a massive network of florists worldwide. They specialize at delivering fully-customizable bouquets that are sourced from local florists who artistically design and hand-deliver the bouquets in premium conditions, usually on the same day.
Over the years, I've used their service countless times, and they have managed to maintain a premium service almost every time.
So today, I'm here to share with you a short review of their services as well as my experiences while shopping with them!
Teleflora Flowers Review Sep 2023
Apart from their unique and efficient delivery system, the thing that sets Teleflora apart from the rest of the crowd is their astonishingly vast collection of bouquets.
They have bouquets for all kinds of occasions, from birthday flowers to funeral service bouquets, and you even get the option of customizing your bouquets according to your preferences.
I recently got a birthday bouquet from their "Flowers in a Gift" collection to gift it to a very dear friend on her birthday. If you're wondering what this collection is all about, let me explain it to you in detail!
Flower in a Gift Collection
This is a concept pioneered by the co-founder of Teleflora, Lynda Resnik. Flowers can stay fresh for only a few days before they start maturing, and they will die off eventually. What if you wanted to send something more permanent, something alongside flowers that your special someone can treasure forever?
This is how the company came up with their "Flowers in a Gift" collection – which is basically a set of bouquets that are sent along with unique keepsake vases designed by Teleflora.
Whenever you order a bouquet on Teleflora that has the "Flowers in a Gift" symbol on it, you can be assured that your recipient is getting a keepsake vase or a container alongside the flowers that they can treasure forever.
Initially, Teleflora only had a few vases in this collection, but with time, their collection has expanded considerably and now includes everything from serving pitches to coffee mugs.
However, most of the collectibles are limited edition, and you may not find the same product if you check back again after a considerable amount of time.
Christmas Collection
The Christmas Collection by Teleflora has a huge range of bouquets featuring a wide assortment of flowers ranging from Poinsettias to Christmas trees and wreaths.
What's better is that many of their Christmas bouquets come in collectible containers which are designed by some of the most iconic holiday artists. I personally ordered a bunch of them last year, and I'll review a few of them, so you get an idea regarding the quality of their products!
Thomas Kinkade's Snowfall Dreams Bouquet
While I was doing my Christmas shopping online last year, I stumbled upon this fantastic piece of art, and I just had to have it.
This lush bouquet had an impressive design and included a bunch of beautiful red roses, white carnations, and magnolia leaves. It also had accents of flat cedar and noble fir which gave the bouquet a traditional Christmas look.
Being a part of Teleflora's "Flower in a Gift" collection, this bouquet comes in a premium Thomas Kinkade's Snowfall Dream Keepsake that I still have today.
Large Red Poinsettia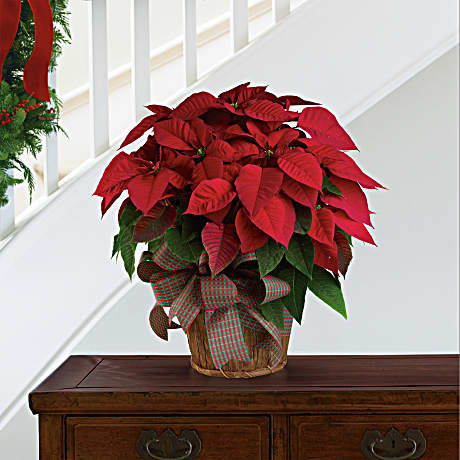 Red Poinsettias are one of the most popular Christmas decorations, and also one of my personal favorites when it comes to decorative plants!
I had ordered a Large Red Poinsettia from Teleflora which I received on the same date. It features an 8-inch pot within which the plant was potted beautifully. The plant came in a natural basket which was decorated with plaid taffeta ribbon but did not have any permanent keepsake containers.
Birthday Collection
Teleflora's Birthday Collection is definitely my favorite out of all the different collections they have. Every time I wish to send some flowers to my friends and family on their birthdays, this is where I head to!
Just one look at their Birthday Collection and you'd be amazed at how extensive and colorful their range is. Not only do you have a ton of basic birthday bouquets, but some bouquets are specifically designed for different types of occasions such as Sweet 16s and Quinceañeras.
Here are a few of the ones I purchased from Teleflora's Birthday Collection.
Always A Lady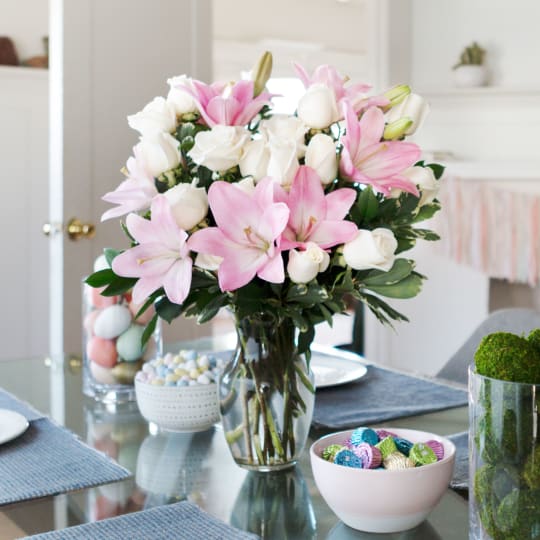 This is one of the most popular bouquets in their Birthday Collection, and I had ordered this just a couple of months ago for my best friend's 36th Birthday!
You have the option of choosing from three different sizes – standard, deluxe, and premium, and you can also add a few extras such as stuffed animals and chocolates to gift along with the bouquet.
This bouquet features an assortment of seventeen white roses which are mixed with pink Asiatic lilies and variegated pittosporum. The bouquet comes in a standard clear glass rose vase which looks quite pretty.
Fashionista Blooms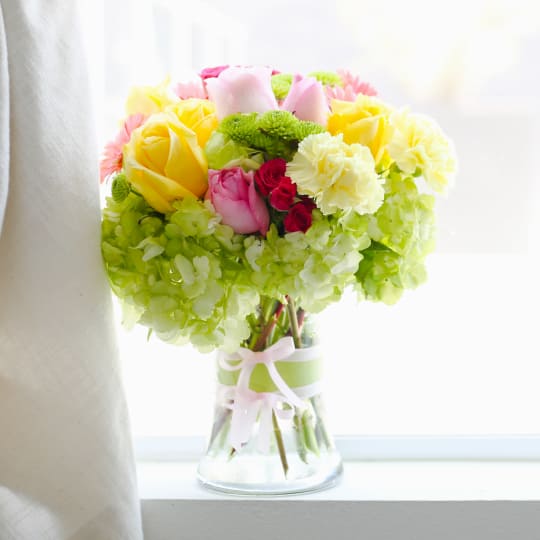 This is the one I picked up from Teleflora's Sweet 16 collection for my niece's sixteenth birthday.
The standard sized bouquet is 11 inches long and about 10 inches wide. It comes in a concave vase which is trimmed with a chartreuse taffeta ribbon and pink raffia.
The bouquet features a combination of several flowers including mini pink gerberas, pink and yellow roses, green hydrangeas and yellow carnations.
My user experience: Highly customizable bouquets at affordable rates!
My experience while shopping on Teleflora has mostly been pleasant, except for a few times when I faced issues with their delivery system.
When I first discovered Teleflora, I was awestruck at their extensive collection of bouquets that were so beautifully arranged in separate categories depending on the occasion. I've used a handful of other online flower delivery services, and I've never encountered one which has a collection as extensive as Teleflora's!
Apart from their vast collection, I was also pretty impressed at the degree of customization they provide – allowing you to choose from three different sizes for every bouquet you buy. You even have the option of adding extra gifts alongside your bouquets which are then directly hand-delivered to the recipient.
However, I believe it is Teleflora's unique delivery system that makes their service so popular worldwide. All their bouquets are personally designed by local florists and then hand-delivered at the location of your choice.
Although most of my orders were executed with sheer perfection, there were a few times when Teleflora messed up on the delivery.
Teleflora has a same-day delivery service which I used to get a bouquet for an anniversary party that I had to attend at night. However, the bouquet arrived hours after the scheduled time, by which I had already purchased a different one from a local florist.
There have also been times when Teleflora messed up on the flower arrangement, delivering a different set of flowers from what I ordered.
Apart from these issues I faced, shopping from Teleflora has been an excellent experience.
A few things that Teleflora needs to improve on
Since Teleflora uses a network of independent florists, the quality of your bouquet can vary depending on the vendor.
This is something we noticed when a friend of mine and I ordered the same bouquet from their website, but we were pretty shocked to find the drastic difference in the quality of the flowers!
Since we were located in different cities, the bouquets were delivered by different vendors – hence the differences in quality. This is pretty disappointing given the fact we paid the same amount of money for products that had a vast discrepancy in quality.
Pros
Huge collection of bouquets to choose from
A very organized website with separate categories for different occasions
You have the option of customizing your bouquets and adding extras such as chocolates and balloons
All bouquets are hand-delivered and hence stay fresh and hydrated
Cons
The quality of your bouquets can vary depending on the local vendor
There have been a few reported cases of late-delivery by Teleflora
Final Thoughts
When it comes to online flower delivery services, very few can compete against Teleflora thanks to their efficient delivery system which ensures your bouquets are delivered fresh. With a massive collection of bouquets that you'll never find at your local florist, Teleflora has revolutionized the flower bouquet market with presence in over 165 countries!
So, go ahead and give them a try. I'm sure you won't be disappointed.